2.5" FINESSE SHAD UV Quantity 10 50% OFF SALE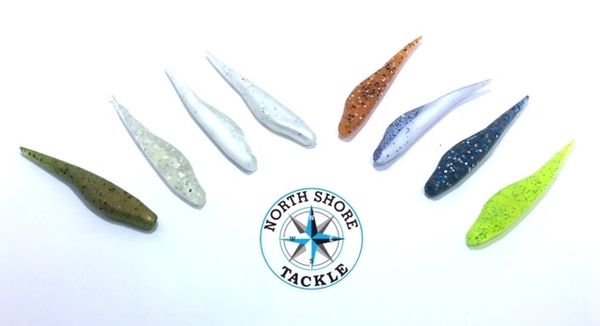 2.5" FINESSE SHAD UV Quantity 10 50% OFF SALE
2.5" FINESSE Shad soft ,flexible,durable and Full Uv (Neon Green and Clear Sparkle , Salt and Pepper have Florescent Glow added for the dusk and dawn  a little  GLOW always helps . 
Packed full of our North Shore Edge bait scent.
* Full action, soft flexible with great tear strength, drop shot, jigged or as a swim bait 
Twitch, Twitch is all you need.
* Add them to a North Shore Tackle inline spinner, or Jig,bottom bounce.
* Add them to a Ned Jig, as a option to the turd stick bait.
* Multi species Trout, Salmon,Bass, walleye, Pike.
Choose your colour from the drop down tab.
Green Pumpkin Sparkle ( Gold Metallic flake) UV
Clear Sparkle ( silver Metallic and Glow) UV
Great lakes Goby (Root beer Black and Silver Metallic flake) UV
Two Tone White / Clear Sparkle  UV
Perch Sparkle ( Red and Gold Metallic flake ) UV
Salt and Pepper (Silver Metallic flake and Glow) UV
Honey Sparkle ( Silver and red metallic flake ) UV
Reviews
Featured Products