3 INCH PADDLE TAIL Swim Bait Quantity 8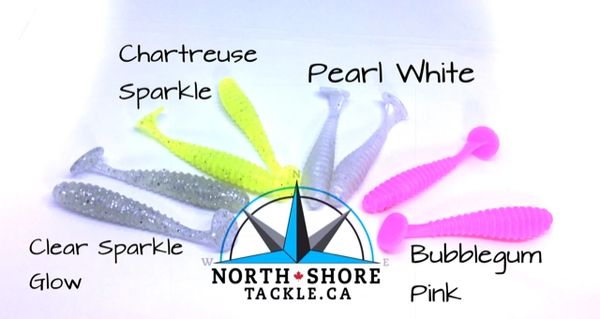 3 INCH PADDLE TAIL Swim Bait Quantity 8
3 INCH SWIM BAIT  soft and durable , full action tail and ribbed body for more vibration.
Durable  body will last all day.
Full UV reactive in every colour, 
Excellent on they own , punching holes or deep jigged, 
Add them to you favourite lure as a trailer to extend the overall profile.  
Pike, Bass, Lake Trout, walleye, Jigged, or add them to your favourite  jig or a North Shore spinner.
Choose from the drop down
BUBBLEGUM PINK UV
CHARTRUSE UV
CLEAR METALLIC GLOW UV
PEARL WHITE UV
HONEY SPARKLE ( GREAT LAKES GOBY )UV
GREEN PUMPKIN (BABY BASS) UV
NEON BLACK ( HEAVY BLUE METALLIC ) UV
ANGRY ORANGE ( ORANGE METALLIC FLAKE )UV
CHARTRUSE SPARKLE ( CHARTRUSE METALIC FLAKE ) UV
Reviews