SOFT PLASTIC BEADS METALLIC AND GLOW 10 mm 50 per pack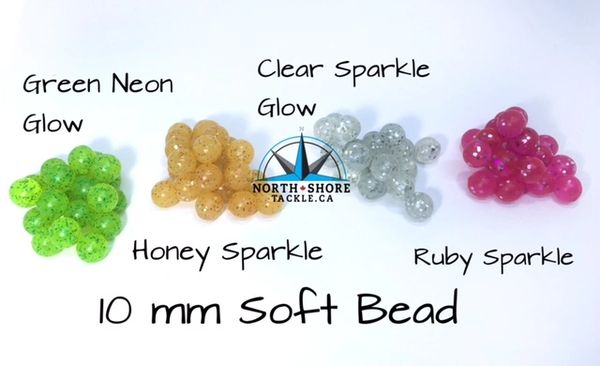 SOFT PLASTIC BEADS METALLIC AND GLOW 10 mm 50 per pack
Our North Shore Tackle  SOFT BEAD have full UV and transparent characteristics, 50 PER PACK 
SOFT, DURABLE,  and easy to use, with or with out a bobber stopper.
Hook them on the Hook or on line them like a hard bead, using a bobber stop .
Add scent to keep that scent tail going.
When your roe bag is not working try something different,tandem beads hard and soft.

UV reactive products allow the fish to see the bait in a different light spectrum.
Choose from the drop down 
GREEN NEON GLOW UV quantity 50
HONEY SPARKLE UV quantity 50 ,
RUBY SPARKLE UV quantity 50 ,
CLEAR SPARKLE GLOW UV quantity 50 

Please View our  Youtube  https://www.youtube.com/watch?v=lUotdC-ZmO4 instructions on how to line your cluster with out an added bobber stopper,
and separating the egg cluster to fit all your water needs. 
https://www.youtube.com/watch?v=lUotdC-ZmO4

Reviews
Featured Products